Wildlife Safety is just as important as our own safety!
We can do a great deal to help_our_wildlife. The aim of The Land Down Under is to make available a range of products that you can use to help_our_wildlife in your area.

There are many preventative products available to keep wildlife away from areas such as fruit trees and even our backyards, but a lot of these products do not protect wildlife, in fact - many of those products cause injuries and even death.
We will endeavour to have many more products available here as soon as possible to help protect wildlife but we want to make sure the products we stock are as safe for wildlife as possible.
If you know of any products available to help protect wildlife, we'd love to hear from you, contact us here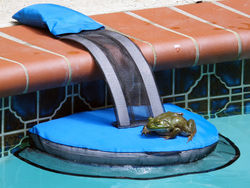 FrogLog® is a simple, cost effective device…