The States and Territories in Australia vary in size, temperatures and landscapes greatly. Within a days drive from Melbourne - Victoria's capital city, you can be at the gateway to the outback! It's a good idea to check the areas you are travelling through and to be aware of the trains that run on rubber wheels and are on bitumen roads instead of tracks - the giants the roads, the road trains.
Always consider the changing environments when driving within Australia's states and territories.
It is important to be aware that in the Northern and Outback Areas of Australia for example, it can and does get extremely hot and humid, especially around our summer months. The Far North areas have a Summer Wet Season that causes road closures in some areas. The best time of year to visit the Northern Areas of Australia is April to September - but the wet season is also a sight to see!
Public Toilet List
This list is priceless when travelling. It shows public toilet lists for all States and Territories in Australia.

Exploring the Outback
Driving in the outback can be very rewarding and very hazardous. The outback should never be driven into without prior planning. It is a very vast area and finding someone who is lost out there is a huge challenge. If you break down or get lost 'NEVER LEAVE YOUR VEHICLE'. A vehicle is easier to find than a person.
The following link will give you a very good understanding of what you need to do before heading into the outback. There are some terrific tips on what to do while you are in the outback, emergency numbers etc. Take the time to thoroughly read through this and print it out if necessary and take it with you.
The few tips that are in this site could make the difference between a fantastic trip or a trip that you would rather forget.
Check out this link for more info: Outback Driving
Road Trains are a vital part of moving goods around the outback. These are trains on rubber wheels and should be treated as such - with care and respect. Many drivers underestimate what our trucks have to deal with on a daily basis to get around - the road trains are seriously misunderstood. The following link will give you the tips you need to drive with road trains easily and safely - for you and your vehicle and for the road trains too.
Driving with Road Trains
Northern Territory
Total Area of Northern Territory is 1,335,742 square kilometres.
Be prepared to travel long distances between places in NT. Always carry plenty of water for each person as well as your vehicle, it can get very hot. At least 3 litres per person per day as well as additional water for your vehicle.
Roadside Rest Areas in the Northern Territory are different for light vehicles (eg: cars) and Heavy Vehicles ( eg: Trucks and Road Trains). Road Side Stops to find out which roadside stops are the best ones to stop at so that you don't put your vehicle or family in the way of trucks and roadtrains.

This link will direct you to the Northern Territory Transport Group website that gives you all the details of what each roadside stop has eg: toilets and it can also tell you where it is.
Also on the site is a list of Fuel Stops on the Northern Territory's National Routes. Print this out and take it with you. This is a valuable piece of paper when you are running low on fuel! The last thing you want to do is to run out of fuel in the Outback.
Take the time to check this site out and print out the relevant pages that you need and take this with you. It can save you a lot of time and you can plan your trip to be just that little bit easier and safer.
New South Wales
Total Area of New South Wales is 800,642 square kilometres.
There are many Roadside Stops in New South Wales. These are sometimes built specifically for trucks only or cars only. At times they are built for both. New South Wales also has 'Driver Reviver Stops', especially during peak holiday times. Always when travelling, take a few minutes to stop at these and have a break. Please take the time to check out the New South Wales Road Traffic Authority site. This has many different routes that you can specifically click on and get the required information that you need, then simply print out the paper and take it with you. These are very detailed and are very handy to have.
South Australia
Total Area of South Australia is 983,482 square kilometres.
Driving conditions in South Australia can vary from Coastal, Rural and City to the Outback. Conditions of these roads can also vary. Please check out the following link to the Rest Maps of South Australia. This is a PDF and is well set out for ease of use and you can print out the sections that apply to you.
Rest Maps
Queensland
Total Area of Queensland is 1.730,648 square kilometres.
Driving in Queensland you can come across cattle, kangaroo's and even trains that run on rubber wheels instead of tracks! The best way for you to find out the driving conditions of Queensland, is to visit the Driving Safety and Advice in Queensland.
Australian Capital Territory
As the ACT is located inside New South Wales and has a total area of only 2,358 square kilometres, check out Visit New South Wales for driving tips.
Victoria
Total Area of Victoria is 227,416 square kilometres.
Due to Victoria being a fairly small state, you could be driving in a dense rainforest and in only a couple of hours, be driving in the snow or a few more hours you could be in the desert! The driving conditions vary so much in such a small state. Here you will find a detailed map of Rest Areas in Victoria.
Tasmania
Total Area of Tasmania is 68,401. The official website of Tasmania has so much to offer - for all details relating to driving conditions, distances, maps, fuel, and much more, take a look at Self Drive.
Western Australia
Total Area of Western Australia in square kilometres is 2,529,875
Western Australia is a massive state. It takes several days to drive from the southern end to the northern end of the state. In the south, you can be driving in anything from old Gold mining areas to the Karri forests - one of the tallest trees in the world, to agricultural areas as well as coastal. In the middle part of the state is mostly desert. The northern part of the state becomes tropical.
The best way to find out about Western Australia's driving conditions and more is to go here:
Road Safety in Western Australia
Long Distances in Australia
One of the most important elements of planning your holiday is to allow enough time to travel the long distances we have here in Australia. Many people under estimate the distances between cities and towns. Below is a distance chart which outlines the kilometres between major cities and towns.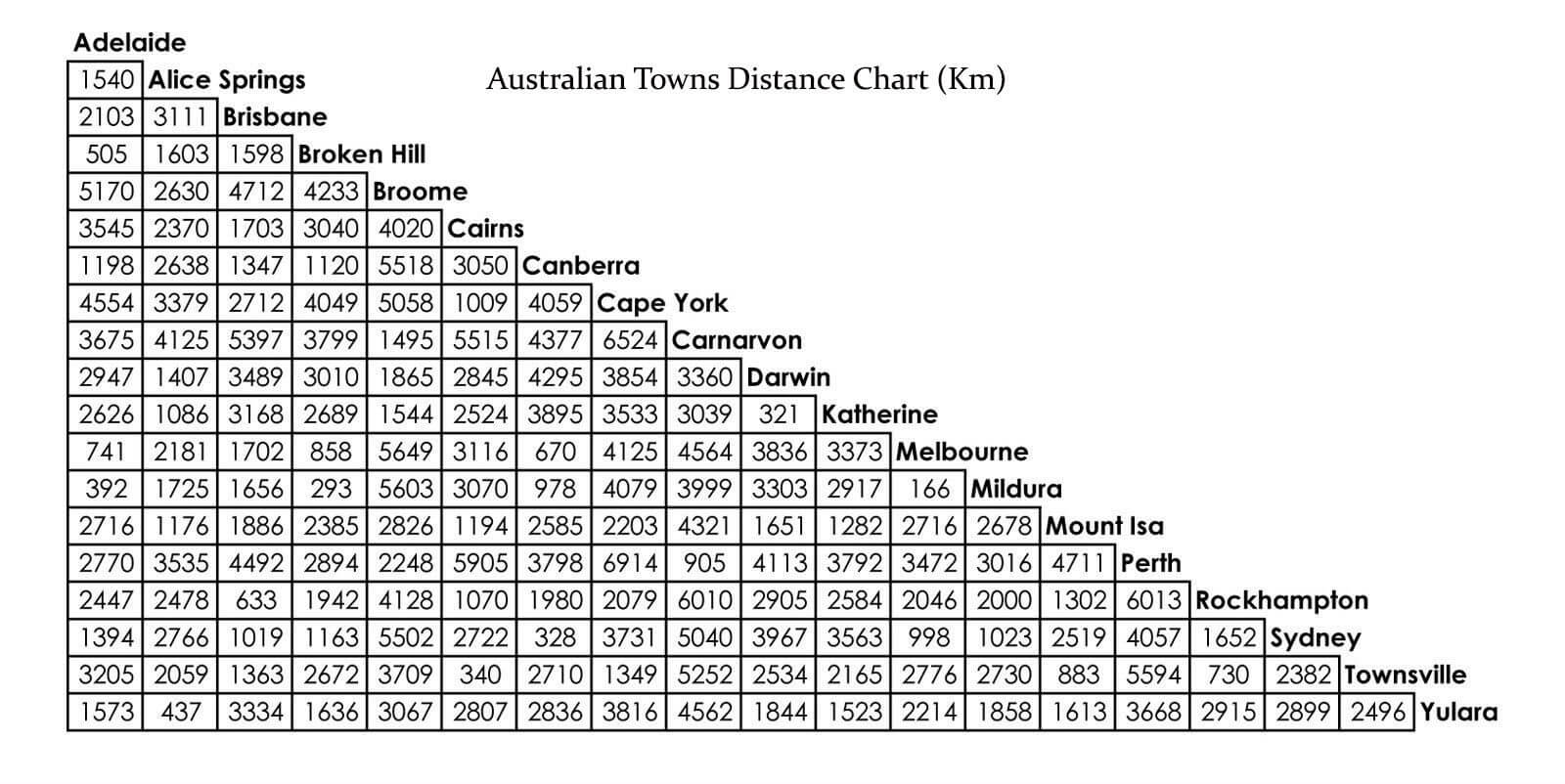 Make sure you stop every 2 hours for at least a 15 minute break.
General First Aid
St John Ambulance Australia have an excellent variety of First Aid Fact Sheets - this is a handy reference should you need it. St John First Aid Fact Sheets
© St John Ambulance Australia. St John First Aid Protocols are for the Australian market only. All care has been taken in preparing the information but St John takes no responsibility for its use by other parties or individuals. St John encourages first aid training as these Fact Sheets are NOT a substitute for first aid training. The Fact Sheets are for use over a 12 month period only. For more information on St John first aid training and kits visit http://www.stjohn.org.au/ or call 1300 360 455.
It is strongly recommended that you have a commercial first aid kit for travel in your vehicle. If you don't have one, then you can make one with the following items:
Band Aids
Antiseptic Cream / Powder
Large Bandage
Safety Pins
Sling
Scissors
Sterilising Agent / Swabs
Burn Ointment
Tweezers
Magnifying Glass
Needle (to help with removal of splinters)
Insect Bite Cream or Stingose
Travel Rug
A travel rug in your vehicle is useful for picnics, but can also be useful for accident victims. A small fire extinguisher can also be handy to have.
*Please note: this is a guide only and should not be taken as professional medical advice. For further information on First Aid Kits contact your local Pharmacist, Medical Supplier, 4WD shop or your local Ambulance Station for more information.
Dial 000 for Emergency Services - this number is used throughout Australia
There are also 2 secondary emergency call service numbers 112 and 106.
Learn more about these numbers here